The Real Measure of Success at COP26
We must work far more quickly to bring the future into the present – to convert ambition into commitment, words into action.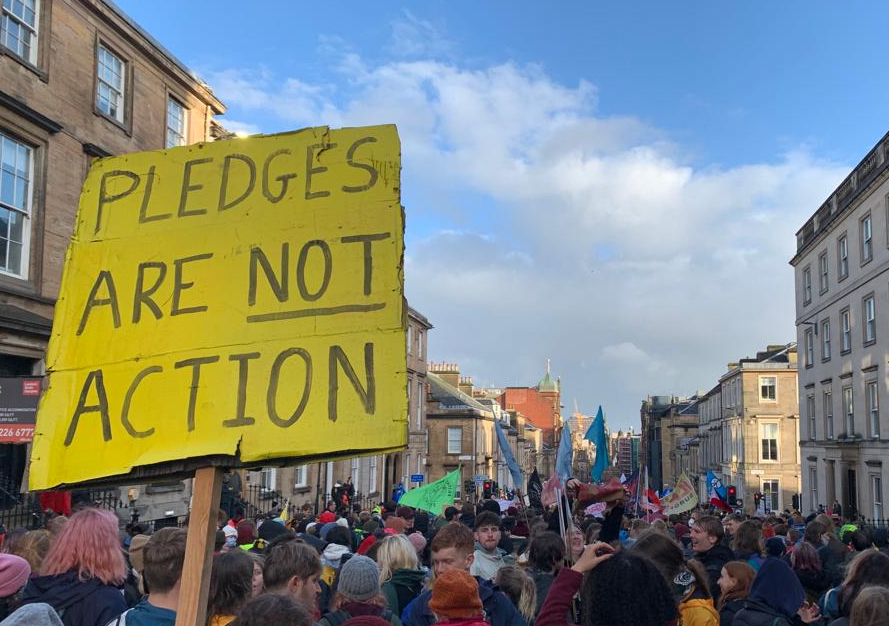 The first week of the COP26 international climate discussions saw the largest gathering of Heads of State since COP21 in Paris six years ago.
Whilst the Glasgow meetings brought forward a wave of encouraging new pledges – including India's commitment to be net zero by 2070 with 50 percent of energy from renewable sources by 2030; 100 countries committing to end and reverse deforestation by 2030; and over 100 governments pledging a 30 per cent reduction in methane by 2030 – tensions remain, since the devil is in the detail of delivery at scale and on time to meet the science-backed goal for halving emissions in this decade.
Most world leaders made it clear that they understand the long-term goal for net zero by 2050 is entirely reliant on delivering action by 2030 if we are to limit global temperature rise to 1.5 degrees Celsius. It is now incumbent on country negotiators in the week ahead to reassure the public that there will be certainty in how we move forward from COP26.
Christiana emphasised that the most important element of the Paris Agreement is working in Glasgow: positive disruption.
"Coal is on the way out. Gas is not far behind. Oil will peak as soon as the finance moves faster, and it will…" – Christiana Figueres
What's more, financial disclosure is rapidly becoming the norm in the finance sector, and although scepticism on accountability mechanisms remains to be overcome, Mark Carney announced $130 trillion is now under the 'net zero' umbrella through the Glasgow Financial Alliance for Net Zero (GFANZ).
Encouragingly, there is a more widespread regard for the role of indigenous communities in protecting nature – a responsibility for which indigenous peoples have long advocated be recognised, since they protect 80% of standing ecosystems.
Against this backdrop of visible momentum and voluntary commitments, we must look towards accountability for the scale and speed necessary in the eight years that remain of the 2020s.
Our take is that the Paris Agreement is working but it can work better – and be able to limit warming to its stated goal of 1.5C – if countries agree on a package at COP26 to step up their commitments to be in line with that trajectory. The UN estimates that the commitments so far would still result in a 13% increase in emissions by 2030, by which time they need to have decreased by 50% to hit 1.5C. There is a lot to do and it is all reliant on cutting emissions now so those trajectories remain open. Speed and scale are everything.
One meaningful step to pave the way is for countries to report annually, rather than every five years, as the Paris Agreement currently stipulates. Whilst not an inconsiderable aspect of negotiations, this could be a COP decision if the will is there.
"It is on the table as a proposal from the most vulnerable countries," Christiana says in Outrage + Optimism's episode, COP26! All Eyes on 1.5, "because they rightly say, 'Look, hold on a minute, this COP26 has done incredible achievements and progress, but we're not on the 1.5 pathway. And therefore, instead of waiting five years, let's do a yearly cycle of increased ambition.'"
As Paul comments in COP26! All Eyes on 1.5, "Corporations are often bigger than countries, and they report annually on how they're performing on climate change. Why should countries be able to wait five years?"
"We're in this decisive decade and you can't revisit what's going on just twice" – Paul Dickinson
We will be keeping our eyes on this proposal across the second week of COP26.
Earlier this week we talked with Noel Quinn, Group Chief Executive of HSBC, who recently committed to a net zero portfolio by 2050, with their supply chain and operations to be net zero by 2030. HSBC is a global bank, with enormous exposure to Asian markets and, of course, a significant amount of exposure to fossil fuels. Noel was quite forthright about this and described the bank's approach to the transition in detail – to learn more, listen to Banking on Net Zero with Noel Quinn.
To round off a very busy first week, Outrage + Optimism hosted a special live recording during Energy Day at COP26, exploring how renewable energy can be deployed to a billion of the most vulnerable people. Paul Dickinson and Tom Rivett-Carnac were joined by the insightful Rebekah Shirley, Director of Research, Data & Innovation at World Resources Institute Africa, and philanthropy leaders committed to de-risking new kinds of energy systems that support human development without polluting fossil fuels: Andrew Steer, President and CEO of Bezos Earth Fund; Rajiv Shah, President of the Rockefeller Foundation; and Per Heggenes, CEO of the IKEA Foundation. We felt energised, as did the live crowd!
There is no doubt we have a long way to go during this second week. As Rajiv Shah said in our live recording, let's listen and learn from everyone – because we will only be able to go faster if we go together.