Climate Policy: Goals, Obstacles + Solutions
Global Optimism's Outrage + Optimism podcast brings conversations with luminaries in the climate world and explores key policies and processes critical to addressing climate change and creating a regenerative future.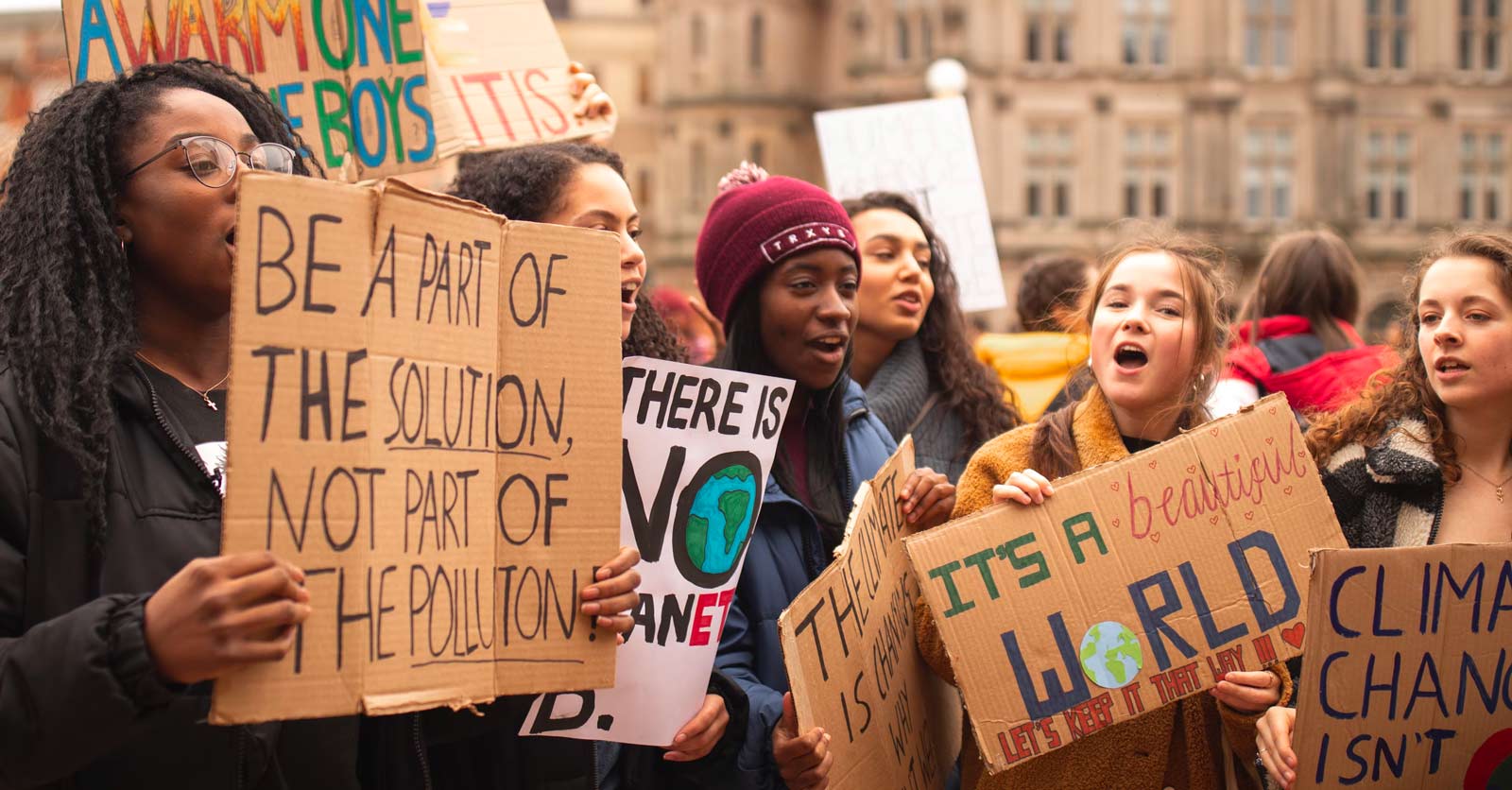 Ever since the first Earth Summit to combat climate change was held in Rio de Janeiro 30 years ago, the urgency of the climate crisis has only intensified.
The scientific consensus is that human-caused climate change is responsible for "unprecedented" warming, putting us on track to exceed the 1.5º Celsius above pre-industrial levels goal outlined in the landmark Paris Agreement. Adopted by 196 parties, the agreement is considered the best roadmap for navigating our way out of this crisis, so long as nations hit their emissions targets and display the conviction to expand their ambitions.
We're already witnessing alarming ecological and atmospheric changes across the globe, and scientists have made clear that temperature rise of 1.5 to 2º Celsius will be devastating: heavier rainfall, more frequent and intense heat waves, higher sea-level rise, fewer crop yields, and the near-complete destruction of coral reefs. For perspective, the planet has already warmed to 1.1º Celsius, underscoring the need for decisive and timely action.
We are on a dangerous path, but the window is still open for policymakers to equitably decarbonise our economy, create thousands of clean-energy jobs, and ensure healthier lives for generations to come. This is not going to be easy. We have never decarbonised our economy before. Most people still do not understand the pace and scale of the transformations needed, including many policymakers, and we have to succeed within one generation.
According to 2021's Intergovernmental Panel on Climate Change (IPCC) report, which predicted temperature rises of greater than 1.5º Celsius in the coming decades: "Human influence has warmed the climate at a rate that is unprecedented in at least the last 2,000 years."
"Climate change is already affecting every inhabited region across the globe, with human influence contributing to many observed changes in weather and climate extremes," the report continues.
Scientists have spoken about the critical need to implement policies around adaptation, mitigation, and resilience for decades, but we have wasted crucial time, especially during the last four decades as temperatures markedly increased.
The various climate conferences prior to Paris largely failed to meet the moment, but they did help pave the path for the historic agreement in 2015.
First, there was the 1992 UN Conference on Environment and Development (UNCED), also known as the 'Earth Summit,' which established the UN Framework Convention on Climate Change (UNFCCC) and mandated that world leaders gather annually for the Conference of the Parties (COP).
In 1997, leaders adopted the first legally binding climate agreement in history, known as the Kyoto Protocol, which set modest greenhouse emission reduction targets but excluded India and China, now two of the world's biggest emitters. Its shortcomings were punctuated by the fact that the United States never ratified the agreement, dramatically limiting its impact.
An attempt at a reset in 2009 resulted in an acrimonious gathering in Copenhagen, where developing nations argued for stricter temperature limits than heavy-emitting giants such as the United States were comfortable with, ending in a nonbinding agreement.
The 2015 Paris Agreement changed the calculus and remains our North Star. If we are to make considerable progress in reducing emissions and limiting warming, it has to happen this decade. Experts agree leaders must not only meet the Paris targets but aspire to build upon them with long-term climate pledges.
We're outraged that we've arrived at a point where dangerous warming is guaranteed. At the same time, we're optimistic that Paris will continue to serve as the springboard for greater cooperation, and nations will hit their goal of reaching net-zero emissions by 2050 by improving or creating new policies set in motion by those 196 parties that signed the agreement.
To better understand climate policy, we've compiled about a dozen episodes from the 'Outrage + Optimism' podcast, produced by Global Optimism. Topics range from goals and initiatives to obstacles, solutions, and much more.
The Paris Effect
It's impossible to overstate the importance of the 2015 Paris Agreement.
For the first time in history, 196 nations unanimously agreed they would work together to try and keep warming "well below" 2º Celsius pre-industrial levels, with the ultimate goal of limiting warming to 1.5º Celsius.
Six years later at COP26 in Glasgow, countries agreed to maintain their target of 1.5º Celsius and provide an update to their climate ambitions at COP27—accelerating what was previously a five-year cycle for parties to present their improved plans for their respective nationally determined contributions (NDCs).
Since the Paris Agreement was adopted, the market has moved in what has been described as a tectonic shift towards a low carbon economy. Efforts by business, companies and investors to reduce emissions have skyrocketed.
Today, the resources we need to accelerate emissions reductions in a timely manner are more readily available than ever before. They are not yet enough, but increased government and business commitments, technology advances, trillions of dollars that are shifting toward clean technologies and an ever-growing civil society movement, are remarkable and far exceed anything we could have imagined just six years ago.
The authors of a report aptly titled "The Paris Effect" note that "progress on low-carbon solutions and markets has been much faster than many realise."
"In 2015, low-carbon technologies and business models could rarely compete with incumbent high-carbon solutions," the report continues.
"Today in 2020, low-carbon solutions are competitive in sectors representing around 25 per cent of emissions. By 2030, these solutions could be competitive in sectors representing 70 per cent of global emissions."
Among the other positive developments since 2015, according to the report:
Nations, cities, and regions with a cumulative GDP of more than 50 per cent are aiming for net-zero emissions.
China, the world's leading emitter, plans to be carbon neutral by 2060. (China also released a joint statement with the United States at COP26 pledging to "enhance ambition" to tackle the climate crisis.)
The private sector appears to be following the path paved by policymakers, with more than 1,500 companies setting net-zero targets.
There is a heightened determination among carmakers to set targets for electric vehicle (EV) sales.
Responding to the report, Global Optimism's founding partner and 'Outrage + Optimism' co-host Christiana Figueres says the Paris Agreement helped clarify the "pathway for the global economy," and markets are responding appropriately.
Figueres, who served as Executive Secretary of the United Nations Framework Convention on Climate Change (UNFCCC) and led the climate conference in Paris, notes the report identifies "what we already know intuitively: That the power sector has matured into renewable energies, displacing fossil fuels quickest, and will be actually very mature by 2030."
"Then comes the electrification of transport that—honestly, tell me the truth, five or 10 years ago, did you not think of electric vehicles as anywhere close to science fiction?" she asks. "It's not science fiction anymore. We see more and more vehicles on the streets, and especially we see increasing demand for electric vehicles."
"The genius behind the Paris Agreement," says 'Outrage + Optimism' co-host Paul Dickinson, "is that everyone's involved in a race—a race to zero," referring to net-zero emissions by mid-century.
While the Paris Agreement is now considered a foundational policy, its adoption in 2015 was never guaranteed. During a TED Talk in 2016, Figueres recalled the sense of unease leading into Paris after previous attempts at producing a global framework to combat climate change were unsuccessful.
"Why did it fail miserably?" she says specifically of the gathering in Copenhagen in 2009. "For many different reasons, but primarily because of the deeply entrenched divide between the global North and the global South. So now, six months after this failure, I was called in to assume the responsibility of the global climate change negotiations. You can imagine, the perfect moment to start this new job. The global mood on climate change was in the trash can."
Figueres made a calculation that perhaps the only way to overcome previous failures was by injecting optimism into the process.
"I use optimism as a very simple word, but let's understand it in its broader sense. Let's understand it as courage, hope, trust, solidarity, the fundamental belief that we humans can come together and can help each other to better the fate of mankind," she says in the TED Talk, which has been viewed 1.4 million times. "Well, you can imagine that I thought that without that, there was no way we were going to get out of the paralysis of Copenhagen. And for six years, I have stubbornly, relentlessly injected optimism into the system."
Laurence Tubiana, the special representative for climate for the French government in the lead up to COP21, and another influential figure in helping to secure the Paris Agreement says the framework established in December 2015 was "meant to change the mindset, change the expectation, change the vision of the future."
Changing people's expectations for what is possible is most clear in how government and private institutions are pledging to reach net-zero by 2050. Net-zero emissions by mid-century were being negotiated well into the final days at Paris, and now "everybody is referring to that as the new normality," she says.
As for Tom Rivett-Carnac, 'Outrage + Optimism' co-host and another architect of the Paris Agreement, there's an appreciation for how well the mechanisms put in place in 2015 have held up.
"The fact that we left Paris with pledges that took us to three degrees, and now, not necessarily enshrined in nationally determined commitments, but rolled up into pledges, as we've talked about on this podcast before, we're now nearly at two degrees," he says. "That suggests that that combination of a big beacon of a long-term vision combined with short-term tangible goals for the next few steps in front of you could be a mechanism that unlocks managing long-term systemic risks that are difficult to get your arms around. And if that does prove to be the case, then that's amazing."
Listen to "The Paris Effect With Laurence Tubiana."
The Paris Effect: Energy Sector
Considering that the energy sector has disproportionately contributed to the climate crisis, it can also play a major role in whether or not we reach our game-changing net-zero goals by 2050.
In another episode detailing the impacts of the Paris Agreement, we highlight a major report from the International Energy Agency (IEA) charting a path toward 1.5º Celsius.
The Paris-based IEA has a history of underestimating the pace and scale of the transition from fossil fuels to renewables, which is why the report's language on climate was striking. At the same time, the "Net Zero by 2050" report acknowledged that global commitments may still not be enough to reach 1.5º Celsius and avert climate disaster.
The report lays out 400 "milestones" to help the global economy decarbonise by 2050, including annual clean energy investments of $4 trillion, which would create millions of new jobs.
One critical milestone would be a significant transition away from the internal combustion engine to electric vehicles (EV).
"This requires steps such as halting sales of new internal combustion engine passenger cars by 2035, and phasing out all unabated coal and oil power plants by 2040," states the report.
While more work needs to be done, there are already encouraging signs: New EV models available to consumers increased 37 per cent in 2021 compared to 2019, and annual sales continue to rise year over year. Notably, dozens of countries and regions have pledged to phase out new internal combustion engine sales, including several European countries and the U.S. city of Los Angeles, while others have set goals for 2035, 2040, and 2050.
The consequence of not reaching these policy goals is huge, considering that transportation in general accounts for 16 per cent of global greenhouse gas emissions, of which 80 per cent is produced by road vehicles alone.
According to Figueres, the IEA report sent a clear message that continued fossil fuel consumption is unsustainable.
"They also say that net-zero is actually better for the world, that there are more jobs in total, there are more local jobs, there's higher GDP, there is lower energy costs as a share of GDP," says Figueres. "And, of course, about three million lives per annum saved from pollution-linked deaths."


Listen to the team analysis of the IEA report within this episode

Consumption of oil, gas, and coal boomed following the Industrial Revolution and has doubled since 1980. Many countries are consuming exponentially more fossil fuel-derived energy now than four decades ago, which presents an obvious obstacle to fast-tracking a transition to renewables.
But there is good news. As the U.S.-based news organisation, Bloomberg notes: "The rise of cheap solar and wind power is helping slow the growth of carbon emissions globally—so is the decline in overall energy demand in developed nations. A recent McKinsey report projected that energy demand would plateau around 2030—thanks in large part to wealthy nations such as the U.S., Germany and Japan. Meanwhile, the number of countries that solely consume fossil fuels including coal and oil has dropped by about half to 17 since 1980, according to U.S. Energy Information Administration (EIA) data."
Rivett-Carnac says in a podcast episode featuring Spanish Vice President and Minister of The Ecological Transition, Teresa Ribera, that an accelerated shift to renewable energy will require "strong government action" to end the use of the internal combustion engine and to institute changes to permitting for oil and gas.
"It's also going to require leadership from companies that are going to have to do more than just reduce their climate impact," he adds. "They're going to have to work out ways to be part of the solution, rather than part of the problem."
There is evidence that private companies are not only reconciling with their climate impacts but seeking to change their behaviour.
As Figueres explains, membership to the Task Force on Climate-Related Financial Disclosures (TCFD) increased 800 per cent from 2018 to 2020. TCFD, chaired by former New York City Mayor Michael Bloomberg, analyses climate-related risks for private entities to paint a clearer picture of negative impacts to their businesses.
In another important step, access to capital for coal companies is also beginning to fade.
"Most private banks, and certainly old public banks, are now completely refusing to finance any new coal," Figueres says. "And that is contracting the flow of capital to the sector and increasing the cost of capital…The finance world is opening its doors to renewable energy because it's less risky. And because the cost is so much more predictable, it's so much less volatile."
If traditional fossil fuel companies question a financially viable future to clean energy, they need to look no further than Danish firm Ørsted, once one of the most coal-reliant energy companies in Europe. Throughout the last decade, Ørsted has transitioned entirely to clean alternatives and is now considered a model in energy sustainability. It's reportedly on track to be carbon neutral by 2025.
Speaking to 'Outrage + Optimism,' the company's chair Thomas Thune Andersen says the transition was necessary for the company to survive.
"We looked [at] the opportunity in the renewable business; we could see that however much we invested in the oil and gas company, it would still in relative terms not have the same impact as if we could channel the money into what we believed in, which was a renewable industry," he says.
Perhaps just as encouraging, Ørsted is witnessing others enter the market, both to its delight and surprise.
"The market today is bigger than we thought it was when we started five years ago," Andersen says. "The competition is also more fierce than it was and what we thought it would be. But I think that's a much better place to be in a bigger market [with] a bigger potential."
On the other side of the coin, the aforementioned Ribera helped spearhead Spain's transition to clean energy via a law banning new coal, oil, and gas projects. After more than a year of debating the measure, Spanish lawmakers approved the bill, which also bans the extension of pre-existing concessions by 2043.
"I think there is broad support on this idea, the green recovery, the energy transition, the digitalisation of the economy, a system that is much more efficient and based on the circular economy," Ribera says, adding that "people have been suffering already the impact of climate change."
Listen to the episode "Seize The Moment With Teresa Ribera And Thomas Thune Andersen."
Tipping Points
Net-zero commitments, advances in clean energy, divestment from coal, and robust sales of electric vehicles are all encouraging signals. But it's also important to maintain perspective: these shifts alone will not get us to where we need to be.
Johan Rockström, director of the Potsdam Institute of Climate Impact Research, is best known for his influential work on the planetary boundaries framework, which has played an important role in the creation of climate-related policies.
He has stark warnings for the current state of the planet.
Throughout the last 10 years, his team has been trying to identify the natural or biophysical processes and systems that regulate the stability of the entire planet, or "planetary boundaries."
"We've been able to scientifically put quantitative targets that give us a safe operating space for a stable climate, but also functioning natural ecosystems for human well-being," Rockström says.
"And these boundaries are set because the scientific evidence already 10 years back shows that if we transgress these boundaries if we move beyond them, we enter a danger zone that can trigger nonlinear changes—what we call tipping points," he continues, "where things start moving in the wrong direction and are unstoppable, such as irreversible melting of the real ice sheet, or changes in the ocean circulation, or that the Amazon Rainforest flips over into becoming a savanna."
The institute published an update in 2019 that Rockström says was the "shock" of his career: Nine of the 15 known big systems were showing "very severe signs of approaching tipping points." The evidence indicates they are "either slowing down, or behaving unnaturally, or showing real signs of losing resilience and moving too close to tipping points."
Among them are three that already likely crossed tipping points, including the Arctic summer sea ice, which "passed the point of no return" and is impacting weather systems in the Northern Hemisphere, causing heatwaves, droughts, and forest fires. The second big system are the glaciers in West Antarctica, which are "starting to irreversibly slide into the ocean…committing ourselves to, very likely, another one-to-two meter of unstoppable sea-level rise," he says. The third is the tropical coral reefs, which protect coastlines from erosion and destructive storms and support thousands of species.
"That was the shock of my life, to recognise that what we identified 10 years back is now playing out faster than we had predicted and that several of these tipping points are starting to be crossed," says Rockström.
The science is made even more sobering by the fact that these natural protectors of the planet are working against us.
"So suddenly you see systems that turn from being our best friend of cooling and dampening our emissions of greenhouse gasses and fossil fuel burning, to becoming a foe, which means that when ice melts, the planet gets darker and absorbs more heat. When forests die back, they cannot absorb and be carbon sinks," says Rockström. "So this is —if you want to talk of a scientific nightmare—what keeps scientists awake at night: we are losing the resilience of the planet."
Rockström acknowledges, however, that halving our emissions by 2030 can help mitigate some of the worst impacts and that policies set forth by governments and industries can help prevent disaster. For example, he says, hydrogen can play a key role to reduce emissions from heavy trucks and biofuels as an alternative to the current diesel engine structure.
He's also optimistic that the European Union, the United States, and China have established their own net-zero targets by mid-century, or in China's case, 2060.
"Here we have the three largest economic powers in the world aligning with science and saying that in 30 years time, in one generation, we are going down to zero, we are going to reach net-zero, and we're doing it in a way that will still deliver on human wellbeing and economic development," Rockström says. "And I think that's our chance."
Listen to "The Scientific Case For The Race To Zero With Johan Rockström."
Adaptation
As the systems described by Rockström suffer from climate repercussions or reach crippling tipping points, there becomes an increased need for adaptation. This requires significant and urgent investment from governments and the private sector, especially for developing countries disproportionately impacted by the climate crisis.
In 2019, the Global Commission on Adaptation said the world needs to become more "climate change resilient" and characterised adaptation as a "human imperative." Last November, the United Nations Environment Programme released its own report signalling that the need for ambitious adaptation financing and implementation is "urgent."
"Adaptation is the process by which we can evolve human systems, natural systems, in order to prepare for the changes that are now inevitable in our climate," says Rivett-Carnac in a podcast episode focused on adaptation.
"There will be some degree of warming in the coming decades," he continues. "That will mean changes in rainfall patterns, it will mean changes in crop yields, it will mean rising sea levels. And if we're going to stay in a place where we can effectively manage climate change, we're going to have to adapt to those changes."
Figueres describes adaptation as the "Cinderella" of climate-related policies. The issue was brought to the fore by developing countries that have suffered the most from climate change but don't have the resources to combat its negative effects.
The other reason, as Figueres explains, is financial.
"In the past 10 years, we have figured out a pretty compelling business model to invest in, certainly in renewable energy, increasingly into energy efficiency, certainly into electric vehicles. So all of the mitigation opportunities have a pretty compelling business model attached to them. Hence, they attract finance. But adaptation doesn't. And adaptation…basically you're throwing money into the sea," Figueres says.
"If you're building a seawall, you're throwing money onto the wetlands….we have not figured out what the business model is for adaptation," she continues. "Hence, it's very difficult to attract funding, certainly investment. And we are left with public funding that as we know, is pretty scarce. So it's very sad, because adaptation is really crucial, and it is urgent. And it continues to be dramatically undercapitalized."
Emma Howard Boyd, chair of the United Kingdom's Environment Agency, the equivalent of the U.S. Environmental Protection Agency, tells 'Outrage + Optimism' it's important for governments to understand the physical impacts of climate change to prepare communities for potentially dangerous events.
"We can all benefit from putting adaptation and resilience in the heart of government decision-making, wherever you are in the world," she says.
It's also necessary to think a few steps ahead when aiding a community hit hard by a weather-related event, such as flooding or a hurricane. In the process of rebuilding, it's critical to understand how those communities can become more resilient, which may mean working with the insurance industry or building regulators to prepare for the next storm.
"We have to be really careful that as we put more attention onto adaptation, that we don't end up making parts of the developed world even more vulnerable to the risks that people will leave those parts of the world even further behind," Boyd says. "We have to see this as a way of helping those countries to develop in a clean, green, but also resilient way."
At COP26, adaptation emerged as a key issue for developing nations disproportionately impacted by climate change. The forceful calls for more ambitious adaptation policies, along with significant financing, were echoed in the aforementioned report from the UN Environment Programme.
While adaptation earned prominence in the Glasgow Climate Pact—the agreement reached as a result of negotiations at COP26—financing, or lack thereof, remains a major impediment to helping nations contend with negative climate impacts.
The Pact specifically notes that current financing "remains insufficient to respond to worsening climate change impacts in developing countr[ies]."
In an episode following COP26, Figueres and Rivett-Carnac acknowledged such deficiencies.
"I just cannot find words for the pain that, especially the low-lying islands are experiencing today—already losing homes, losing livelihoods, losing hope," says Figueres. "I mean, honestly, at what point are we actually going to be brave enough to be in solidarity with these people? Now, having said that, I want to also correct myself, because many of these people do not want to be treated as victims, many of them are saying, 'Yes, we are the most impacted. And frankly, we are totally punching above our weight with respect to the solutions.' And they are.
"They are being so courageous," she continues. "Such leaders, such amazing, amazing guiding lights. But the rest of us, you guys who live in the North, and me who lived in the North for such a long time, we are just not doing our job. The countries of the North are not doing their job, they're still seeing it as opposed to their interest to support adaptation for developing countries. That is the wrong interpretation."
That more hasn't already been done to invest in adaptation is a disappointment, adds Rivett-Carnac.
"We've seen multiple other countries not come forward with what they should come forward," he says, while lamenting that the United Kingdom reduced its overseas development aid budget the same year it served as the presidency of COP26.
"The vulnerable countries have been coming back to the table and saying, we are really hurting, climate change is happening now, people in our country are losing their lives, they're losing their property. And we need to access proper finance in order to enable us to adapt," says Rivett-Carnac. "And the $100 billion, the famous $100 billion that was the original deal [negotiated in 2009] for bringing everybody to the table as a collective effort still hasn't been delivered. And yet those countries are being asked to come back to the table with more commitments to cut their emissions. So my reading of this is it was a bit of a mixed bag"
Listen to the episode "Adaptation Is Survival With Emma Howard Boyd."
---
Rebuilding Trust
After 196 countries adopted the 2015 Paris Agreement, there was newfound hope for the future. That was especially the case for the United States, historically the world's biggest polluter. As Barack Obama was coming to the end of his two terms in office, the conventional wisdom suggested Hillary Clinton, the Democratic nominee for president, would pick up right where he left off. But the surprise election of Donald Trump, a noted climate denier, meant that America's role in shaping climate policies was in jeopardy. Trump lived up to a campaign promise and pulled the U.S. out of the Paris Agreement and embraced deregulation, successfully rolling back more than 60 environmental regulations.
After defeating Trump in a contentious 2020 election, Joe Biden pledged to return the United States to the Paris Agreement, which he did. But the most difficult step seemed to be restoring faith in America as a global partner. The question among world leaders was simply, "Can the U.S. still be trusted?"
Biden tapped John Kerry, the former secretary of state and senator, as special envoy for climate, and Kerry has been busy reassuring world leaders the United States is indeed back.
"How are we going to regain trust? We're not going to do it by talking. We're not going to talk our way into a trustworthy position, we have to take action," Kerry told 'Outrage + Optimism.' "And that's why President Biden began immediately by joining Paris, secondly, issued an executive order that makes climate a critical component of all government decision making—every department, every cabinet officer has to now factor climate into every decision that we're making."
Kerry argues that the United States can still have an impact on the world stage, citing the country's joint statement with China on battling the "climate crisis"—with the phrasing itself turning some heads.
China and the United States followed that up in November with a joint statement at COP26 on "enhancing climate action."
The two countries, despite their acrimonious relationship, agreed to "hold the global average temperature increase to well below 2º C and to pursue efforts to limit it to 1.5º C."
The statement adds: "In that regard, they are committed to pursuing such efforts, including by taking enhanced climate actions that raise ambition in the 2020s in the context of the Paris Agreement, with the aim of keeping the above temperature limit within reach and cooperating to identify and address related challenges and opportunities."
The rivals also committed to creating regulatory frameworks to help reduce emissions this decade, to enhance the measurement of methane emissions, and, critically, vowed to scale up the "financial and capacity-building support for adaptation in developing countries."
After the U.S. wasted valuable time ignoring the climate crisis during the Trump years, activists have been pushing the Biden administration to accelerate its environmental initiatives. In 2021, the administration committed to reducing emissions by 50-52 per cent compared to 2005 levels by 2030 and decarbonising the power sector by 2035.
The Biden administration, however, has struggled to pass legislative action to combat the climate crisis. The president's most ambitious climate and social spending plan, called "Build Back Better," has failed to muster the necessary votes, and without it becoming law, the United States will struggle to meet Biden's emissions goals. The president's infrastructure package, which has become law, commits $50 billion for climate resilience and to protect against extreme weather. But the goal from the beginning was to tether both plans to aid the fight against the climate crisis, which hasn't been achieved.
Kerry, for his part, sees continued diplomacy as the way forward.
"We want to work in a cooperative way with every country that wants to work at this because no one country makes this happen," he says. "No one region makes this happen. This is truly one of the most global multilateral initiatives we've ever engaged in."
The U.S. is not alone in its mission to rebuild trust. Trust, as Figureres explains in this Time magazine article, is the greatest resource we have to transform economies and society.
"Trust is the glue that will hold our collective efforts together through the extremely difficult challenges we are facing," Figueres says. "It is hard-won and easily lost. Unless we intentionally rebuild trust—in ourselves and in each other—our work to secure a liveable future for humanity will falter and ultimately fail."
That message applies to everyone endeavouring to create a more sustainable future for the planet and its people.
"Adopting a binary mentality of who is right and who is wrong, only leads to mutual blame and condemnation," Figueres says.
"Just like any well-functioning ecosystem, we need a great diversity of approaches," she adds. "It is going to take all of us working together with honesty, compassion, and respect for each other to deliver the changes we need."
Listen to "100 Percent Outrage and 100 Percent Optimism With John Kerry."
---
Protecting Nature
Safeguarding our climate by limiting warming to 1.5º Celsius will not be achieved by emissions reductions alone. The explosive growth of clean and cost-efficient energy solutions will help reduce our levels of greenhouse gas emissions and provide for cleaner air, especially in urban areas. But this alone is not enough. It's also vital we protect and restore all of the global commons—including soil and biodiversity, which as Rockström explained, have historically acted as our first line of defence against harmful emissions.
"[Today] one in every five hectares of land is unusable. Restoring just 350 million hectares of the degraded land could, by 2030, remove greenhouse gasses roughly equal to half the world's annual emissions from the atmosphere," Inger Anderson and Ibrahim Thiaw, two United Nations officials, wrote in Al Jazeera in 2021.
Rivett-Carnac says in a podcast episode examining the 30x30 campaign that 75 per cent of the land surface has already been "significantly altered," and 85 per cent of wetlands have been lost. That underscores the need to protect rainforests and other climate-defending ecosystems, such as forests, which absorb 2.4 billion metric tons of carbon annually.
"The second piece is to restore what we've lost," Rivett-Carnac adds. "We've lost enormous amounts of biodiversity, and land, and tree cover, and natural ecosystems. And actually, study after study has confirmed that restoring those ecosystems has enormous benefits from a climate perspective and from an economic perspective, in supporting human settlements and livelihoods."
The 30x30 campaign, created by the Campaign for Nature, has advocated for the protection of 30 per cent of the world's oceans and lands by 2030. As with most climate objectives, such preservation can't bring back what was lost but hopes to mitigate future losses. Already, the world has lost 60 per cent of wildlife in the last half-century, along with 18 million acreages of forests, and 90 per cent of big ocean fish in the last century.
Rita M. El Zaghloul, the coordinator of the High Ambition Coalition for Nature & People on behalf of Costa Rica, says on the podcast that 30x30 was first presented by the President of Costa Rica in 2019, in response to reports of significant biodiversity provoked by human-caused climate change.
"Protecting those ecosystems would provide a third of the climate mitigation needed by 2030," Zaghloul says.
She cites a UN WCMC report from 2020 that states: "Conserving 30 per cent of land in strategic locations could safeguard 500 gigatonnes of carbon stored in vegetation and soils—around half the world's vulnerable terrestrial carbon stocks—and reduce the extinction risk of nearly 9 out of 10 threatened terrestrial species."
For many environmental activists, equity is key to creating systemic changes that not only protect communities but improve their lives. Accomplishing that means ensuring Indigenous people and local communities are central to the goals set out in the 30x30 campaign. Building partnerships is crucial to that ultimate goal.
"In the high ambition coalition," Zaghloul says, "we have created a task force specifically to work with Indigenous people and local community groups to make sure that our narrative, and how we are trying to implement and to get to the 30 by 30 goal," also aligns with their values.


Listen to "Nature Needs More With Rita El Zaghloul."

To avoid critical tipping points and ensure global net-zero emissions by mid-century, it'll take collective action from policymakers, activists, NGOs, and the private sector.