Transforming Transport to Combat Climate Change
Global Optimism's Outrage + Optimism podcast series The Future of Transport breaks down how the sector contributes to climate change and how meaningful reform can be better for business and for people.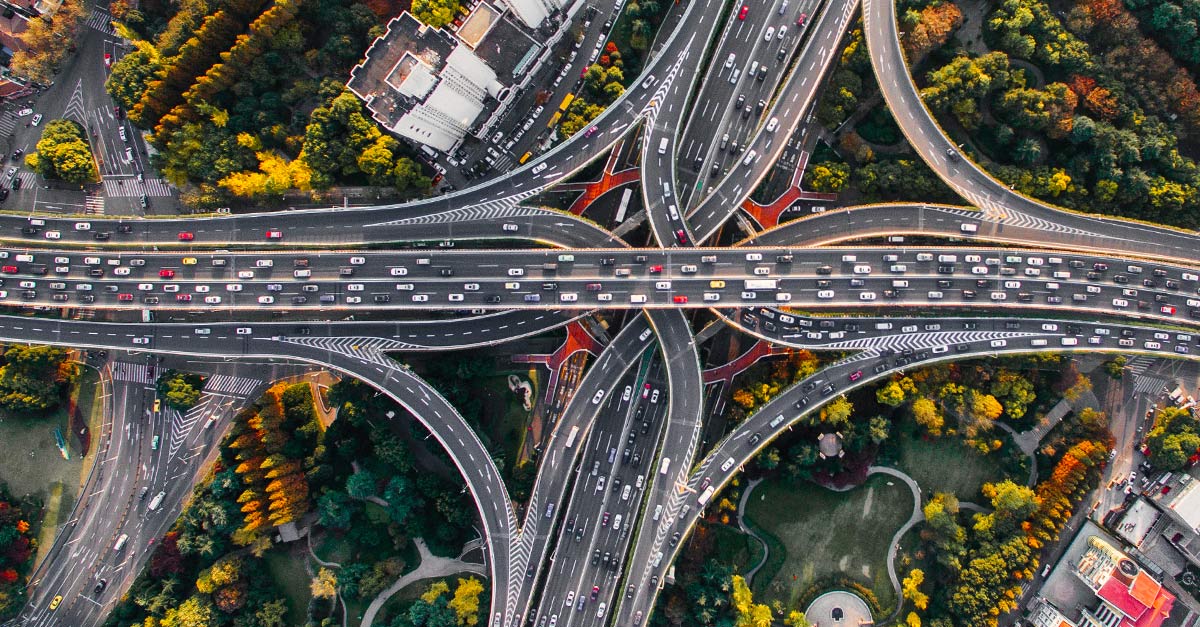 Human-caused climate change has virtually guaranteed that the planet will continue to warm, weather events will become more extreme, and sea levels will continue to rise.
That's the verdict of the Intergovernmental Panel on Climate Change's (IPCC) most sobering report yet on the planet's future. Produced by hundreds of scientists, it spares no punches regarding our role in the crisis. Humans, the authors note, have "warmed the climate at a rate that is unprecedented in at least the last 2,000 years."
On top of all that, the U.S. National Oceanic and Atmospheric Administration (NOAA) confirmed that July 2021 was the world's hottest month on record. While the news was unsurprising considering the extreme weather events—floods, extended wildfires and ever more intense storms—that have characterised the summer of 2021, it crystallised the seriousness of the moment.
While human influence is to blame for the climate crisis, the fact remains that human ingenuity can also be a source of positive change. And that's why we remain stubbornly optimistic.
To achieve resilience to the impacts of climate change that are already evident and avert worsening negative impacts, we must both radically reduce emissions from across the global economy and protect and restore natural capacity to absorb emissions already in the atmosphere. Part of this is to identify how we can transform things like conventional cars and lorries, which are significant drivers of climate change.
While there is no one solution to transforming the transportation sector, investing and expanding access to alternative fuels and clean-energy vehicles, and making public transport more equitable will help us reach the ambitious goals set out by IPCC. Considering transportation's impact on global trade and the lives and livelihoods of millions of people in cities and towns across the globe, transportation is a major issue in terms of carbon and other warming emissions, as well as an increasingly worrying public health hazard.
As Global Optimism's founding partner and Outrage + Optimism co-host Christiana Figueres recently wrote: "Fast forwarding the global transportation sector will not only make air pollution a thing of the past, it's key to making the huge strides science demands in this decade to tackle the climate crisis."
In this special Outrage + Optimism investigative podcast series titled "The Future of Transport," we examine everything from transforming aviation and the global shipping industry to new fuels for light and heavy vehicles, and changing urban transportation to better understand both the challenges we face and the solutions required to avert climate catastrophe.
Here's some context:
Transportation is responsible for 16 per cent of global greenhouse gas emissions annually.
In 2016 alone, transportation emissions accounted for 24 per cent of global carbon emissions, which have been on a dramatic rise for decades.
According to the IPCC, greenhouse gas emissions from the transportation sector have skyrocketed throughout the last half-century, doubling since 1970 and increasing more rapidly than any other "energy end-use sector".
Road vehicles are largely responsible for emission spikes, accounting for 80 per cent of the transportation emissions growth since 1970.
Commercial aviation emissions are projected to triple by 2050.
Despite the sizable impact of road vehicles, aircraft and ships are also heavy emitters, together accounting for approximately 5 per cent of all carbon pollution globally.
"Total energy consumption by transport increased around 44% in the first 15 years of the 21st century; total emissions only increased 31%, reflecting some efficiency growth", according to the global research nonprofit World Resources Institute (WRI). "Oil demand in the transport sector has increased by about 25%; transport remains extremely dependent on oil, and the sector accounted for about two-thirds of global oil consumption in 2015, with road transport alone accounting for half of oil consumption."
These emissions are hazardous to both the environment and our health.
According to a study by the International Council on Clean Transportation (ICCT), vehicle exhaust emissions were linked to more than 385,000 deaths in 2015, with 70 per cent of those tragic outcomes associated with some of the leading vehicle markets. Notably, researchers said that as a conservative estimate these stats may not reflect exhaust emissions' true death toll. A separate study by Harvard University attributed one in five deaths to fossil fuel air pollution.
From road to sea to air, the transportation sector plays a major role in our daily lives. That is also why it should be part of the solution.
As Outrage + Optimism co-host Paul Dickinson says on the first episode of this climate and transport podcast series:
"Imagine a plane from London to Paris powered by waste cooking oil, or a cargo ship crossing the Pacific powered only by wind, or our congested cities empty of gas-guzzling SUVs, and replaced by autonomous, on-demand electric cars. The solutions are out there, but is there enough ambition to bring them to life?"
In more than two dozen interviews for this climate and transport series, we've learned about alternatives to aviation fuels, greener shipping practices, flying taxis, high-speed travel between cities, investments in walkable urban centres and so much more.

Here's a breakdown of each podcast episode from this important series on transportation and climate change.
Climate and Transportation: The Future of Flight
While we can imagine a future in which cars, SUVs, and freight lorries are mostly powered by electricity, it's much more difficult to envision an E-revolution for the aviation industry.

What we do know for certain is that airlines were on a path of continued traveller growth before Covid-19 essentially grounded the industry, resulting in devastating job losses and government bailouts, many of which were conditional on "greening" airlines, especially in countries with progressive climate policies.


Background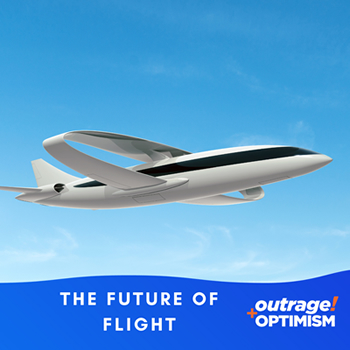 From 2004 to 2019, the number of commercial flight passengers increased from 23.8 million to 38.9 million. However, the pandemic dealt a significant blow, resulting in unprecedented bailouts to the airline industry.
So, how does air traffic affect climate change? Well, the rise in flights during the last two decades resulted in a significant increase in carbon emissions from an industry recently credited as being responsible for 2 to 3 per cent of global emissions.
"In 2013, global CO2 from commercial aviation was 710 million tons. In 2017, that number reached 860 million tons, a 21-per cent increase in four years, and it climbed another 5 per cent to 905 million tons in 2018", according to the nonprofit Environmental and Energy Study Institute.
In a working paper released in July of 2021, the International Council on Clean Transportation (ICCT) noted that commercial aviation carbon emissions are "on track to triple by 2050, under a pre-COVID business-as-usual scenario. At that point, they could claim up to a quarter of the global 1.5°C carbon budget."
"[T]he industry is only beginning to develop decarbonizing technologies that would lower emissions and appeal to consumers: sustainable aviation fuels are in early stages of commercialization, while electricity- or hydrogen-powered aircraft are still at the research and development stage", the ICCT working paper continues.


Breaking Down the Podcast Episode
As our hosts explain, COVID-19 largely decimated the airline industry in 2020, leading to unprecedented declines in passenger numbers. But, as in many other industries, the pandemic seemed to provide an opportunity for leaders both inside and outside aviation to begin devising strategies to improve the environmental impact of flying.
As co-host Christiana Figueres puts it: "Considering the personal toll that it takes, the time involved, the emissions involved, the cost involved, I really wonder whether we're going to go back to the same flight behaviour that we had before or whether we're going to radically transform."
When it comes to the future of aviation, there's no better example of radical transformation than soaring 25,000 miles around the world without using any fuel. That feat was accomplished in 2016 by Solar Impulse 2, a plane outfitted with more than 17,000 solar cells.
Psychiatrist and explorer Bertrand Piccard, who spearheaded the voyage, previously drew acclaim for flying around the world in a hot-air balloon.
"Solar Impulse was built not to transport passengers, but to carry a message," Piccard previously said. "We want to demonstrate the importance of the pioneering spirit, to encourage people to question their certainties. Our world needs new solutions to improve the quality of human life. Clean technologies and renewable energies are among them."
In an interview with Outrage + Optimism, Piccard says that that pioneering spirit has largely been lost:
"The first 50 years in the history of aviation has been a fantastic story of innovation, disruption, and then we had 50 years of optimization, making the aeroplanes safer and more efficient. But I think we have lost a little bit [of] the sense of innovation now in commercial aviation. And it's definitely the time to go back to innovation because we need innovation. We need more efficient aeroplanes, we need new types of fuels, we need new types of technologies, and we need new types of procedures."
While it might be years before we can confirm whether Piccard's message was received, the private and public sectors are working toward reducing aviation emissions—though not at the pace many environmentalists would like, or that the scientific consensus on cutting carbon would demand.
One way to get there is through Sustainable Aviation Fuel (SAF), according to Jonathon Porritt, an environmentalist, writer, and founder-director of the sustainability nonprofit Forum for the Future.
"The real story is all about Sustainable Aviation Fuels. And that, for me now, is the most exciting dynamic area", Porritt explains in this episode. "The interface between what the private sector can do and what the government needs to do to create the right kind of policy settings for sustainable aviation fuels is incredibly timely and important."
Porritt says France's efforts are a prime example. As a condition of its bailout of Air France, the government is requiring the airline to cut carbon emissions in half by 2024 and source 2 per cent of its fuel from sustainable alternatives by 2025.
One firm working towards such sustainable solutions is Neste, the world's largest producer of renewable jet fuel.
In this podcast, Neste CEO Peter Vanacker describes how the company collects unused cooking oils from various countries and removes fatty acids and other residues that typically end up in the drain.
"We bring it to our refinery. And then through a process that we have developed at Neste, we're making these renewable hydrocarbons out of it", he says. "So they are 100-per cent comparable with the oil-based diesel or the oil-based kerosene for the aviation industry."
Throughout its life cycle, Neste says its Sustainable Aviation Fuel reduces greenhouse gas emissions by 80 per cent compared to traditional jet fuel.
Vanacker says the airlines purchasing and deploying SAF have differing motivations:
"They are buying it because they are funding it, because either they find customers that are willing to pay or they have made their own sustainability budgets available and they are funding that, buying Sustainable Aviation Fuel out of these budgets."
Currently, more than 30 airlines are using Sustainable Aviation Fuel to some degree.
It's important to understand that SAF is a short-term solution that doesn't require airlines to replace fleets, but fuel alternatives for long-haul flights and zero-emission aircraft will be integral to developing cleaner aviation.
In September 2020, zero-emission aviation firm ZeroAvia accomplished something quite remarkable: its six-seat, hydrogen-fuelled Piper Malibu propeller performed a brief flight at its facility in Cranfield, England. ZeroAvia boasts the largest hydrogen-electric aircraft in the air.
"Hydrogen-electric means that you use hydrogen to store the fuel or store the energy onboard the aircraft, so [you carry] hydrogen fuel, but you don't burn it", ZeroAvia CEO and founder Val Miftakhov tells the hosts in this episode. "Instead, you use it in hydrogen fuel cells, which are devices that take hydrogen and oxygen from the air, and convert that into electricity. And the only byproduct is water. So it is true zero-emission."
In a sign that decarbonised flying could be within grasp, the firm is planning a 250-mile, zero-emission flight in a few years, which is the equivalent of travelling from London to Paris.
From there, ZeroAvia hopes to launch commercial flights, aided by energy plants that will help power 10- to 20-seat aircrafts that can travel up to 500 miles. By 2030, Miftakhov says the company will have a single-aisle, jet-sized aircraft using zero-emission fuel.
Beyond engineering sustainable alternatives to flight, the aviation industry also has to contend with more climate-conscious consumers.
"If you remember last summer, 2019, there was 'flygskam' or 'flight shaming.' There was a lot of attention on this," former commercial airline pilot and partner at global consulting firm McKinsey and Company, Robin Riedel, says on the podcast. "We saw airlines coming out with a number of announcements to offset or to drive towards more sustainable flying. And then COVID hit, and COVID hit this industry probably more than any other industry out there."
Riedel's team surveyed online consumers and found more than 50 per cent "would be willing to pay somewhere between 2 and 5 per cent more to fly in a sustainable way," he says.
Another critical aspect of aviation is business travel, which was dealt a serious blow by COVID-19.
"The other interesting thing here is that corporate customers are getting very thoughtful about wanting to reduce their footprint," continues Riedel. "And so you see many, many large corporations, making public announcements about reducing their footprint and really going to the airlines and negotiating with the airlines to say, 'Listen, you need to find a pathway to make this happen because we're no longer willing to have that kind of a footprint for our travel.'"
Climate and Transportation: The Future of Fuels
For decades, internal combustion engines and their fuel sources have been instrumental in enabling humans and goods to move from place to place. But they've also proved destructive to the environment and our health.


Background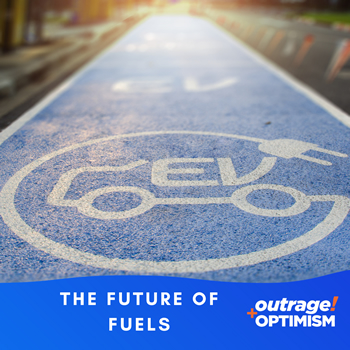 In 2015, 195 countries, including the world's biggest polluters, made history by unanimously adopting the Paris Agreement on climate change, committing themselves to keeping global temperature rise below 1.5 degrees Celsius (or for those who think in Fahrenheit, that is 2.7 degrees). Science, which informs the intergovernmental process and its decisions, predicts that beyond this level, runaway climate change will spell irreversible disaster for human life
A critical piece of it was a pledge to reduce greenhouse gas emissions and temperatures to ensure warming remains below 2 degrees Celsius.
As the United Nations has noted: "A strong focus on renewable energy sources and a substantial decline in fossil fuel production and consumption is key to achieving the Paris Agreement goals."
Focusing on renewables is vital because the ever-increasing demand for solar and wind will help drive down prices and make them more affordable. The stakes couldn't be higher: as of 2019, 84 per cent of global energy was derived from fossil fuels, with only 11 per cent from renewables. That needs to change if we're going to meet the Paris Agreement's 1.5-degree goal.


Breaking Down the Episode
Fuel heats and cools our homes and offices, ignites car engines and allows us to fly to experience new cultures and operate vast public transport systems and infrastructure—of course more accessibly in developed countries.
The impact of fuels has benefitted our ability to develop in some parts of the world, but the negative impacts have been considerable, especially as it relates to climate and transportation.
"There's no denying that for over a century fossil fuels have played a key role in humanity's progress, but at a cost", says Outrage + Optimism co-host, Tom Rivett-Carnac, at the outset of this podcast episode about fuels, climate and transportation. "They account for more than two-thirds of greenhouse gas emissions. And the pollution from burning them kills more than 4 million people a year."
While the COVID-19 pandemic has induced incalculable pain and suffering across the globe, it did help reduce carbon emissions by more than 6 per cent in 2020.
However, as noted in Nature: "The decline is significant...but smaller than many climate researchers expected given the scale of the pandemic, and is not expected to last once the virus is brought under control."
Stopping all economic activity is the exact opposite of what we need to thrive beyond the climate and health crises. Indeed, the planet can only heal itself if we radically cut carbon pollution, which requires a total re-think of the fuels we use in our economy and lives.
So what can be done?
Well, unlike the seemingly long and arduous path to decarbonization for the aviation industry, tackling fuel itself—the actual source of the problem—offers an encouraging path forward.
And there have already been significant gains, as noted in this episode by our hosts. Among them:
An electric car company—Tesla—has taken the mantle as the most valuable automaker in the world.
ExxonMobil in 2020 was dropped from the Dow Jones Industrial Average.
Countries are trying to phase out new petrol and diesel cars, including Germany, historically one of the leading car manufacturing nations in the world.
"How transport is going to be transformed will be fundamental to the whole future that we've been trying to create", Rivett-Carnac says on the podcast.
And that brings us to California, which year after year is ravaged by a seemingly never-ending march of wildfires, set to grow increasingly stronger and longer due to a warming climate. For perspective, the so-called Dixie Fire, the largest single fire in California's history, which started on July 13, 2021, was still burning seven weeks later and had destroyed more than 500,000 acres of land—double the acreage of New York City, and around 1.28 times the size of Greater London.
If there was ever a proverbial ground zero for the climate crisis in the United States, it would seem to be California.
Mary Nichols, who served as chair of the California Air Resources Board, tells Outrage + Optimism that one way the Golden State is addressing the crisis is by banning the sale of all non-zero emission passenger vehicles after 2035. The executive order by the governor also calls for medium- and heavy-duty trucks and lorries to reach the same standard by 2045.
According to Consumer Reports: "In addition, the order requires development of new affordable fueling and charging options for EVs. It also calls for the state to invest in alternatives to private, car-based transportation, including a statewide train network and projects that support bicycle and pedestrian infrastructure."
Another of the state's mandates is to improve "our forest and land management, to make them more capable of absorbing and holding carbon," says Nichols. "So this is definitely driven by the recognition of how horrible the fires are."
Ramez Naam, an energy analyst interviewed for the podcast , says we can "absolutely" end our energy addiction, pointing to Germany's cost of solar power dropping "by a factor of 30" and wind power dropping "by a factor of 10".
"That," he adds, "is what is disruptive to fossil fuels".
Of course, decarbonising entire electric grids—which have been powered by fossil fuels for decades—is a completely different matter. Among the solutions Naam proposes is to build bigger grids, including continent-sized grids that can utilize solar power from, for example, Spain, Italy or Turkey, and wind from the North Sea.
Naam believes greater demand for alternatives will motivate leaders of fossil fuel companies to change their ways.
Naam tells Outrage + Optimism to look no further than Ørsted, previously Danish Oil and Natural Gas. Once primarily in the business of fossil fuel, it has evolved into one of the leading renewable energy companies in the world.
"And so you have to ask yourself if you're the executive: 'Am I the CEO of an oil and gas company? Or am I the CEO of an energy company?'" says Naam. "Because the first one is doomed. The second one, there's massive growth. The world's going to use much more energy in 2050 than it does today, but it's going to be clean energy."
Monica Araya, who's trying to build a future without toxic fumes from exhaust pipes, sees signs of progress. For instance, the Chinese city of Shenzhen is operating a fleet of 17,000 electric buses—something that would have been unheard of just a few years ago.
Considering the disproportionate impact of climate pollution on poorer communities, Araya says in this episode that inequality has to be part of the electrification equation.
"It is about looking for the opportunities that can help us decrease emissions, that can help us increase our health and wellbeing, and can help us deal with this horrific inequality problem we have that is unacceptable and is outrageous", she says.
In this episode, we also hear from Craig Knight, the CEO of Hyzon Motors, a startup supplying hydrogen fuel cell-powered commercial vehicles, including heavy-duty trucks, buses and coaches across Asia. The company is in the process of delivering its first hydrogen-powered vehicles to European customers.
"Our mission is essentially to accelerate the energy transition from fossil fuels to hydrogen in mobility applications", says Knight.
There are questions, however, since hydrogen is generated in multiple ways and not all of them are "green". Some hydrogen generation today relies on an extraction process from natural gas, which does emit carbon dioxide into the environment.
Knight outlines some of the key benefits of hydrogen-powered vehicles, including the fact that they produce zero exhaust or tailpipe emissions (although producing hydrogen can lead to pollution). Additionally, remote fuel cell analysis limits downtime, which could appeal to businesses and encourage them to move away from fuel-powered vehicles.
Alejandro Agag, the founder and Chair of Formula E, a single-seater motorsport championship for electric cars, hopes the sport drives consumers to purchase electric vehicles.
"We've asked the people exiting our events: 'Are you closer today than yesterday to buying an electric car?' Ninety-nine per cent of the people said 'Yes, I'm closer'", Agag says on the podcast. "By seeing these cars in a racing way, in a racing format, something that was before only reserved for big combustion cars, you take a big leap. You take a big step of changing the mindset."
Climate and Transportation: The Future of Shipping
While many people comprehend carbon emissions as a result of air travel and ground vehicles, it's much harder to contemplate the impact of ocean shipping on our environment. The fact is, the majority of world trade happens by sea transport, and the shipping industry emits as much of the current global greenhouse gases prevalent today as airlines do.
"Although considered the most efficient method of transport in terms of cost, it's also responsible for 2 to 3 per cent of global emissions, which if it were a country would put it on par with Germany, the world's sixth-biggest emitter", says Outrage + Optimism co-host Tom Rivett-Carnac at the episode's outset. "The challenge to decarbonise shipping is huge. With around 60,000 vessels currently in operation, emissions are expected to be 50 per cent higher in 2050 than in 2018."
So let's start there.


Breaking Down the Podcast Episode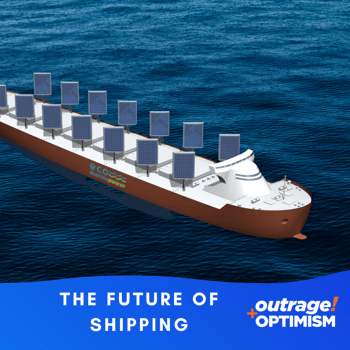 As is the case with other modes of transportation, the world needs to significantly reduce emissions from shipping.
Jules Kortenhorst, the CEO of the nonprofit Rocky Mountain Institute, and one of the foremost experts on global energy, tells Outrage + Optimism that moving away from marine diesel—or "that nasty stuff", as he calls it—is critical. But accomplishing that may be easier said than done.
Many of the alternatives to marine fuel are nascent and more expensive than what's being used currently to operate vessels. Among the solutions are hydrogen and green ammonia, which is produced from green hydrogen.
"But ships travel all around the world", explains Kortenhorst. "You need infrastructure to fuel them, you need the plants to produce that fuel. Those plants will only get built if they know that there is demand. That demand will only emerge when the price of the fuel is low enough. And that gets us to the chicken and the egg problem. Right now, there are no ships around that can sail on hydrogen or on green ammonia. There are no ports that can bunker those fuels. And there are no producers that make that fuel. So who's going to take the next step forward? And for that, we have to bring the industry together."
Instilling the notion of "shared commitments" or understanding of "what the future will look like" within the industry could help, continues Kortenhorst, adding that if all the stakeholders united around a 10-year plan, the industry would move toward a greener future.
While leveraging modern technologies to transform the shipping industry is key to future sustainability, we should look toward cutting emissions where we can right now, to improve environmental conditions, says James Mason, a PhD researcher at The University of Manchester. He co-authored a report for the UK's Tyndall Centre for Climate Change that found solely relying on newly efficient ships won't be enough to reduce emissions, considering the typical ship has a lifespan of up to three decades. Furthermore, shipping, like all industries, will need to consider how it will cut emissions by 50 per cent in the 2020s since science requires halving global emissions by 2030 to meet the Paris Agreement goals agreed by all nations.
"Some of the research that we've done here at the Tyndall Centre has actually shown that it's the short-term reductions that are vital for us to meet our Paris Agreement goals," Mason tells Outrage + Optimism. "Now, that's because, once we emit carbon dioxide, it actually remains in the atmosphere for hundreds, if not thousands of years. So it actually builds up. And right now our emissions are high. So we need to cut them in the short term to stop them from building up."
Mason's research focuses on various alternatives, including so-called "wind propulsion," which uses sails to limit fuel consumption. Combining it with improved navigation technologies that can help ships sail to "areas of the ocean with beneficial winds", can also assist in reducing carbon emissions, he says.
Wind propulsion—which can be outfitted on a variety of shipping vessels—appears to have a promising future. The International Windships Association (IWSA), a major proponent of these propulsion systems, has seen its membership grow nearly tenfold since 2014.
Simon Bullock, a co-author of the aforementioned Tyndall Centre report, says the low cost of diesel, however, remains an impediment.
"One problem that shipping and aviation both face, which isn't the case in road transport, is that their fuels don't pay any tax by international convention", Bullock tells Outrage + Optimism. "So it's very hard for new fuels like ammonia or hydrogen to compete with diesel."
Diesel benefits from "decades of subsidy", he notes, adding that even a comparatively small tax on such fuel would raise upwards of £5 billion for research and development.
That brings us back to sails—the centuries-old propellant experiencing an apparent rebirth.
In this episode, we also speak to Diane Gilpin, CEO of Smart Green Shipping, who is translating her experience in yacht racing and Formula One to revolutionise shipping.
"We've developed a 40-meter high, automated intelligent wing sail that can save up to 25 per cent fuel when retrofitted onto existing ships," Gilpin tells Outrage + Optimism. "And that's enabled by a lot of digital science that's supported by the European Space Agency, for example. And so we can predict the amount of wind that will be available. We can optimize the power-cool off combination between the wing sails and the engine."
"And then once we've installed those, which we hope to be doing within a year, then we start to learn from the data that we're generating, from the experiences that we are having through the retrofit models and through the retrofit in real life", she continues. "And we can start to improve the retrofit technology, but we can also start to think about: How do we build 100-per cent renewable newbuilds?"
Gilpin hopes to set sail with 100 per cent renewable-powered ships by 2030.
Remember when we said the global shipping industry is responsible for 2 to 3 per cent of global emissions? Well, Gilpin sees bulkers and tankers, of which there are more than 10,000 available, as perfect for this technology. Retrofitting those could, by her firm's projections, save about 1 per cent in global greenhouse gas emissions.
In an industry that has seen greenhouse gas emissions increase nearly 10 per cent since 2012, it's difficult to convince carbon-neutral proponents that improved efficiency will make a significant difference in combating climate change.
If you're in the camp that wants shipping to invest in zero-carbon alternatives, you can count Søren Skou, CEO of Maersk, as a potential ally.
Maersk, the world's largest shipping company, announced plans to go carbon neutral by 2050—which for the industry is sooner than you'd think when you take into account the lifespan of these large vessels.
Skou tells Outrage + Optimism that Maersk's clients, including some of the most notable brands in the world, are "also increasing pressure on our industry to actually come up with solutions for how to decarbonize, help them decarbonise their global supply chains."
So how will Maersk get there?
In terms of fuel, the company is eyeing ammonia—an alternative which The Rocky Mountain Institute's Kortenhorst mentioned—and alcohol. Skou is confident that the shipping giant can solve any safety issues associated with both alternatives, and in a few years, purchase small container ships and fuel them appropriately before moving on to larger vessels.
"We have to get this done by 2030", Skou says. "Because a ship has a life expectancy of somewhere between 20 and 25 years. So we need to start replacing ships by 2030, in order to be ready at 2050."
The challenges to the shipping industry don't stop there. In this episode, we also document how ports are coming to grips with their emission problems, the feasibility of taxing shipping companies or having them purchase emission certificates, and how decarbonisation has emerged as an "existential" question for the shipping industry.
The Future of Urban Transportation
Cities across the globe face several unique threats from climate change, and for some the crisis is existential.
From flooding and extreme heat to severe rain events and increasing numbers of ever-stronger storms, these densely populated areas are at continued risk from climate change.
Today, more than 55 per cent of Earth's 7 billion inhabitants live in urban centres. By 2050 we expect that more than 70 per cent of a projected 9 billion global citizens will live in cities. And given the fact that cities are responsible for an estimated 75 per cent of global emissions today, they must confront their own role in the worsening crisis.
Tackling climate change will require a multi-faceted approach targeting industries that move people and goods by air, sea and road. For people living in urban areas, roads are clearly where the battle for a greener future will take place. Not only are officials seeking to transform major city centres by making them friendlier to pedestrians and cyclists and more resilient to rising seas, but they are also seeking to protect their citizens in the near term.


Background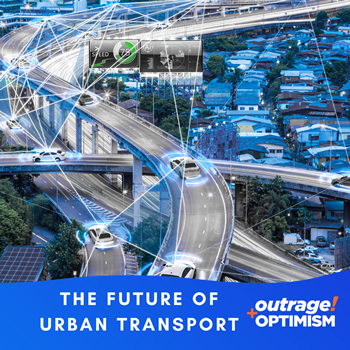 In a major study looking at the health impacts of vehicles, the International Council on Clean Transportation (ICTT) found: "Ambient air pollution is the leading environmental health risk factor worldwide, contributing to 3.4 million premature deaths annually from heart and lung diseases and diabetes."
Simply being on roadways can be dangerous, with more than 1.3 million people globally dying in traffic crashes each year.
Indeed, modernising—and decarbonising—urban transportation is an immediate priority if we are to build the local economies that will survive and thrive beyond 2050.
So, what does the future of transportation look like? It may mean flying taxis and high-speed pods or improved bike lanes and bus routes—the combination of many of these will be vital to enable citizens to go about their livelihoods in liveable cities. However cities evolve, we must ensure they're safer, healthier and more equitable.


Breaking Down the Podcast Episode
"With more than half the world's population, cities are on the front lines of sustainable, inclusive development", United Nations Secretary-General António Guterres said at the C40 World Mayors Summit in 2019. "With air pollution a grave and growing issue, people look to you to champion better urban air quality. With environmental degradation driving migration to urban areas, people rely on you to make your cities heavens for diversity, social cohesion, and job creation. You are the world's first responders to the climate emergency."
As many cities embark on mapping out the future of their urban centres, such plans must be laid out carefully and without worsening the lives of the most vulnerable among us.
"It's really about how we organize space, how we allocate space, how we mix land uses to make sure people can still live and work and play and socialize and engage in their activities as citizens without having to travel very far distances", Kevin Manaugh, an associate professor in the Department of Geography at The Bieler School of Environment at McGill University, tells Outrage + Optimism.
While "efficiency" has driven planning for decades, Manaugh believes that in order to adequately address the crisis, planners should instead try to promote more equity and social interaction.
"Transport systems can be designed to foster better health in people by walking and cycling, foster better social interactions", he explains. "These ideas of equity to who is welcome in various spaces on various modes, making sure everyone can access what they need in a normal amount of time, but kind of moving away from this idea of, let's make sure everything's fast, let's make sure everything's efficient. But let's make sure things are equitable and accessible to all people."
Manaugh points to cities like Paris, which will institute a ban on cars crossing the city centre, and Oslo, which removed all of its parking spots and used the space to create small parks, bike lanes and benches, resulting in a large decline in car traffic.
By making public transport more accessible and affordable and by promoting walking and cycling, London has seen a significant decrease in the number of schools in polluted areas, Shirley Rodrigues, London's deputy mayor for environment and energy tells Outrage + Optimism.
Rodrigues says London's Ultra Low Emission Zone (ULEZ) has led to a "very rapid and dramatic cut in air pollution." A signature achievement of Sadiq Khan's tenure as Mayor of London, the policy essentially requires drivers to meet stringent emission standards or face a daily charge when entering the most populated urban areas.
Congestion in cities is yet another problem made worse by idling cars, trucks and lorries polluting the surrounding area and contributing to poor air quality - and carbon pollution that warms the planet.
One company that has set a goal for 100-per cent zero emissions deliveries by 2025 is the global retailer, Ikea.
Pia Heidenmark Cook was the chief sustainability officer of the INGKA Group, a holding company that operates hundreds of Ikea's stores. Cook notes that mobility is critical for Ikea, especially as it tries to implement new and cleaner ways to get goods to customers and meet the growing demand for e-commerce.
Ikea has been working with two large manufacturers as it revamps its fleet of delivery lorries, Cook says, adding that there needs to be more support for electric vehicle (EV) charging stations throughout the cities they operate in.
In China, for example, Ikea now reaches a majority of its customers with a fleet of 10,000 EVs. Although Cook acknowledges that the cost of transitioning to an all-electric fleet could be a deterrent, she says that "over the lifetime of the vehicle it's a much smarter solution than what we have today".
Ikea is looking to conduct last-mile, zero-emission delivery in more than 30 markets, and is currently focusing its efforts primarily on five cities: Los Angeles, Paris, Amsterdam, New York and Shanghai.
"Shanghai did it within a year, it was really fast", Cook says. "They had the infrastructure, they had clear signals from the mayor, the safety technology was there, the awareness of air pollution is huge in Shanghai."
In the future, some companies may simply have no choice as more and more cities ban fossil-fuel-powered vehicles in city centres.
"We simply can't do business, because 80 per cent of our business today is e-commerce. E-commerce is connected to home delivery. And if we can't drive into people's homes, we can't do our business", Cook adds.
Sergio Avelleda is the urban mobility director at the World Resources Institute, Ross Center for Sustainable Cities. As the former secretary of Mobility and Transport in Sao Paulo, Brazil, he's also well aware of the self-reflection cities must commit to in order to create more sustainable cities.
"First of all, we need to reduce travel desire and travel distance—on this point, urban plan[ning] is essential", he tells the podcast, adding that redesigning neighbourhoods and connecting people is essential.
Even small changes can have a big impact. Avelleda notes that during the COVID-19 pandemic, many cities added "exclusive lanes" for specific vehicles—a seemingly minor adjustment that only requires "paint and some signals to do it."
In Colombia, the city of Bogotá has been closing its roads every Sunday, welcoming cyclists, runners and enthusiastic pedestrians, and now other cities are trying to follow suit.
By encouraging less driving and more walking, these cities can improve the health of their citizens—partially by enticing them to be more active but also by reducing harmful emissions people are exposed to when sharing city streets with polluting vehicles.
Cities can also look to the past to find inspiration. Avelleda's home city Curitiba in southern Brazil was the first to install a bus rapid transit line (BRT) in the 1970s, with improvements made decades later. Bornout of necessity, it is now a model for how innovative ideas from the past can help lead us into the future.
"You see a lot of residential buildings around these BRT lines, and no buildings after three or four blocks from these BRT lines", explains Avelleda. "It's amazing because people have a very good option to use bus transport so they don't need to have cars. So you will allow people to densify around these BRTs."
However, simply modelling public transportation after successful projects isn't feasible for many cities. Take Uganda's capital city of Kampala, whose public transportation system mostly consists of low-capacity and ageing minibus taxis and roads that are not suitable for major public transportation investments.
"We don't have a mass public transport system that's operating in the city. So definitely the situation of traffic congestion, we can almost call it chronic right now", Claire Birungi, the country manager in Uganda for the Institute for Transportation and Development Policy, tells Outrage + Optimism. "If we can organise the city, and not replace but transition and work together with smaller capacity public transport vehicles that we have right now, to a mass public transport, we think a lot of people would be able to move to it. And of course, it would make commuting and living in the abandoned city...more friendly."
Kampala is making progress. While the city's infrastructure previously did not have mechanisms to transport its population, officials are now working to upgrade and maintain roads and provide areas for walking and cycling. A public transportation system is also in development, along with a potential bus rapid transit system, which the city designed with support from the World Bank.
While cities are implementing innovative and new ideas to combat climate, it's clear that electrifying transportation will be key to reducing greenhouse gas emissions.
As Global Optimism's founding partner and Outrage + Optimism co-host Christiana Figueres recently wrote:
"Cars, trucks and buses account for around three-quarters of all greenhouse gas emissions, far more than aviation and shipping combined, and 45% of this pollution comes from light vehicles. On the other hand, automakers are signaling they are ready for emissions-free lineups, but they also have one foot in the past, with the internal combustion engine still a dominant force."
So what's the future of zero-emission vehicles?
The electric vehicle market is on the rise, with more than 1.18 million EV cars on the road in the US alone as of March 2019. From 2017 to 2018, for example, sales jumped 81 per cent in the US market.
Robin Chase is the former co-founder of ZipCar and now the co-founder and executive chair of Veniam, a vehicle communications firm. Chase says autonomous vehicles, which could be an alternative to traditional taxi services in the near future, are progressing, though the final "2 per cent" of vehicle technology has been stubbornly difficult to resolve. Still, autonomous vehicles are operating in geo-fenced areas which create specific boundaries—meaning these cars are limited in where they can move around.
Another option may be to simply travel across a city by air—which could be a real consideration in the near future—or in a tube-like train at super speeds rather than jet-setting from city to city.
The first example is Volocopter, an electric air taxi company that has conducted test flights in Singapore and Dubai and plans to carry passengers shortly.
"We have an all-electric range of 20 miles, which pretty much covers the basic centre of all megacities around the world," Florian Reuter, Volocopter's CEO tells Outrage + Optimism. "We have analysed that the top 93 of 100 airports are actually located within that distance from the city centre. So from the start, we can serve all relevant grounds in the metropolitan areas around the globe."
Going greater distances and considerably faster speeds is Virgin Hyperloop, which promises to reach "airline speeds with one-tenth of the energy consumption," according to CEO Jay Walder.
Here's how it works:
"Hyperloop has its own contained environment in which it's working. And what we put through that tube, our pods, they're relatively small vehicles, we anticipate that they will hold 25 to 30 people in a single pod, it's going to float on magnetic levitation, so it will be super smooth," explained Walder. "I like to tell people that you can literally hold a cup of coffee while you're travelling at 1,000 kilometres an hour….And then the final part, which is not a physical piece of infrastructure, is the control system. Effectively, we've created a low-drag environment...we've created the ability to be able to have smooth operations. And now the last part of this is autonomous. It allows us to be able to operate this completely autonomously with the computers and the sensors actually operating the system."
Takeaways
Let's face it, the outrage we feel is justified: millions of people die each year from pollution caused by transport emissions or in traffic accidents—both of which could be reduced dramatically if we develop the technologies to accelerate the transportation revolution.
But this investigation also provides a great source of optimism. From the potential creation of alternatives to aviation fuel and greater investments in public transportation to the transition to electric vehicles and cleaner ways to travel long distances, we have the tools to build a brighter future. But as the most recent IPCC report makes clear, there is no more time to squander—now is the time to act in order to reap the economic and societal benefits in the present and the long-term.